Live After Death (1985)
Tipo de álbum: Directo - Live
Tracklist original:
Lineup:
Bruce Dickinson – vocalista
Dave Murray – guitarra
Adrian Smith – guitarra
Steve Harris – bajo
Nicko McBrain – batería
Productor: Martin Birch
Ingeniero: Martin Birch.
Grabado en / desde: Hammersmith Odeon - Rolling Stone Mobile :: Long Beach - Record Plant Mobile Nº. 3
Producción y mezclas: Record Plant Studio A, Los Angeles
Masterización: Capitol Records, Hollywood
Fechas de grabaciónes: Hammersmith Odeon 8, 9, 10 y 12 de octubre de 1984 - Long Beach Arena 14, 15, 16 y 17 marzo de 1985.
Fecha de producción: 8 de julio al 3 de agosto de 1985.

Fecha de lanzamiento: 14 de Octubre de 1985.
Máximo en listas: 2

Singles
RUNNING FREE - LIVE
23 Septiembre de 1985
Posición en listas: 19
Temas:
1. Running Free (Live)
2. Sanctuary (Live)
3. Murders In The Rue Morgue (Live)
Videoclips




Aces High (Live - 1985)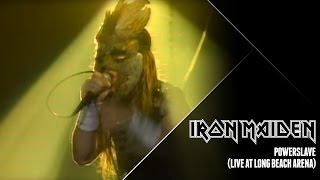 Powerslave (Live - 1985)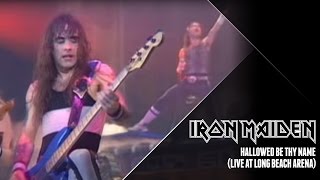 Hallowed Be Thy Name (Live - 1985)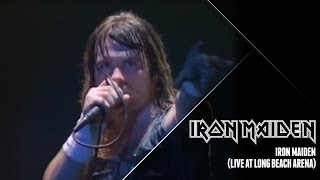 Iron Maiden (Live - 1985)
Ediciones.
Original: 1985
Reedición: 1995
Remasterizado: 1998
Replica de vinilo: 2000
Reedición 1995
Edición de dos discos, donde en el segundo disco aparecen tres "Bonus Tracks" aparecidas en los singles de este mismo álbum:
1. Losfer Words - Live (Harris)
2. Sanctuary - Live (Harris, Di'Anno, Murray)
3. Murders In The Rue Morge - Live (Harris)
Remasterización 1998:
Este es el nuevo tracklist, la Intro de Churchill se incorpora en una pista aparte, ya que en la primera edición formaba parte de Aces High y se incorporan cinco nuevas canciones grabadas en Hammersmith, nunca editadas: Wrathchild, Children Of The Damned, 22 Acacia Avenue, Die With Your Boots On, The Phantom Of The Opera:
Esta nueva edición fue producida por Simon Heyworth en los estudios Chop ´Em Out.
Contiene un Enhanced CD que trae fotos, biografías y cuatro videos, "Aces High", "2 Minutes to Midnight", "Powerslave" y un trozo de "Revelations".