Live At Donington (1993)
Tipo de álbum: Directo - Live
Tracklist original:
Lineup:
Bruce Dickinson – vocalista
Dave Murray – guitarra
Jakick Gers – guitarra
Steve Harris – bajo
Nicko McBrain – batería
Adrian Smith - guitarra (como invitado especial en Running Free)
Productor: Steve Harris
Ingeniero: Mick McKenna
Masterización: Tim Youn
Fecha de lanzamiento: 8 de Noviembre de 1993
Máximo en listas en Reino Unido : 23

Singles
HALLOWED BE THY NAME - LIVE
4 Octubre de 1993
Posición en listas: 9
Temas:
1. Hallowed Be thy Name (Live)
2. The Trooper (Live)
3. Wasted Years (Live)
4. Wrathchild (Live)
Videoclips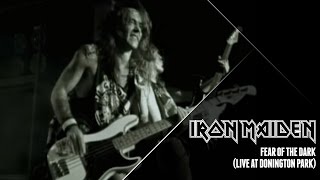 Fear Of The Dark - Live (1993)




Hallowed Be Thy Name - Live (1993)
Ediciones:
Original: 1993
Edición limitada: 1993
Remasterizado: 1998
Replica de vinilo: 2000
Remasterización 1998:
En esta nueva edicion se dejan las 14 primeras canciones en el primer CD y las 6 últimas para el segundo CD, y se cambia totalmente la ilustración de la portada, apareciendo el clásico Eddie muerciélado:

Esta nueva edición fue producida por Simon Heyworth en los estudios Chop ´Em Out.
Contiene un Enhanced CD que trae fotos, biografías y dos videos, "Fear of the Dark" y "Heaven Can Wait".