No Prayer For The Dying (1990)
Tipo de álbum: Estudio
Tracklist original:
Lineup:
Bruce Dickinson – vocalista
Dave Murray – guitarra
Jakick Gers – guitarra
Steve Harris – bajo
Nicko McBrain – batería
Productor e Ingeniero: Martin Birch
Grabación: Rolling Stone Mobile
Mezclas: Battery Studios, en Londres
Fecha de lanzamiento: 1 de Octubre de 1990.
Máximo en listas: 2

Singles
HOLY SMOKE
10 Septiembre de 1990
Posición en listas: 3
Temas:
1. Holy Smoke
2. All In Your Mind
4. Kill Me Ce Soir
Videoclips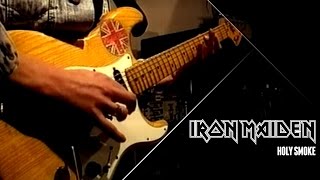 Holy Smoke (1990)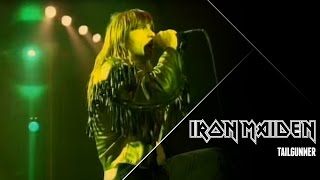 Tailgunner (1990)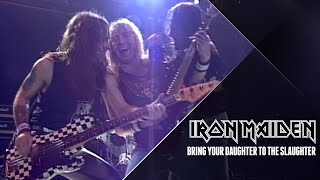 Bring Your Daughter... To The Slaughter (1990)
Ediciones:
Original: 1990
Reedición: 1995
Remasterizado: 1998
Replica de vinilo: 2000
Reedición 1995
Edición de dos discos, donde en el segundo disco aparecen cuatro "Bonus Tracks" aparecidas en los singles de este mismo álbum:
1. All In Your Mind (Bromham)
2. Kill Me Ce Soir (Koymans, Hay, Fenton)
3. I'm A Mover (Fraser, Rodgers)
4. Communication Breakdown (Page, Jones, Plant, Bonham)
Remasterización 1998:

Aparecen unos ligeros cambios en la carátula del album, el hombre al que agarra Eddie, ya no aparece.
Esta nueva edición fue producida por Simon Heyworth en los estudios Chop ´Em Out.
Contiene un Enhanced CD que trae fotos, biografías y dos videos, "Holy Smoke" y "Tailgunner".